Youtube
Websites
Books

Vedic Astrology: A Guide to the Fundamentals of Jyotish

Vedic, or Jyotish astrology, has its roots in Indian and Hindu culture, making it markedly different from its Western counterparts. The author of this book explains how it can be used, and how it shouldn't be used, in this introduction. Complete instructions, easy to understand. Charts. Glossary. Bibliography. Index. http://books.google.com.au/books?id=SwnPdKhjEFkC&dq=Advanced%20Primer%20of%20Sidereal%20Astrology&source=gbs_similarbooks
To Buy: Amazon
Astrology at the Speed of Light

World governments practice this science every hour of the day, but, only the true Vedic calculated methods which were used by Egyptians and Mayans. Saturn, according to these higher ups, is the most important and the most powerful planet out there for gaining wealth and power. Now, you can learn the true meaning of this celestial power. I bring you the easiest way to learn true and original Astrology and its secrets. I goes into details about all the ABCD of Astrology. This is a guide for people who lost faith, or never trusted astrology, due to lack of depth in their weekly or yearly sun signs and moon signs horoscopes. Stop looking at those useless websites and newspapers; you weren't wrong in losing faith, because what you saw was not even the surface, let me show you the rabbit hole. I also discuss some of the secrets, and misconceptions of astrology and Numerology, which most astrologers do not imply into their daily practice.
To Buy: Shop [ebook]
To Buy: Shop [physical]

Aspects at the Speed of Light
This book is based on Vedic Astrology aspects. It contains all the planetary aspects through houses, meaning of aspects, special Jamini aspects, Parivartan yoga, Nakshatra parivartan, meaning aspects and planets, how to study aspects including examples and case studies. This book specifically concentrates on Aspects of Vedic Astrology which no book has ever done before.
To Buy: Shop [ebook]
To Buy: Shop [physical]

Conjunctions at the Speed of Light
This is a ebook on astrological conjunctions and the methods to study them. The book contains information on how to exactly study each conjunction. It also has 2, 3, 4, 5, 6 and 7 planetary conjunctions and their meaning.
To Buy: Shop [ebook]
To Buy: Shop [physical]

Bundle at the Speed of Light
This book is a combination of all my astrological books: Astrology, Conjunctions and Aspects. You will learn astrology in the most detail manner.
To Buy: Shop [ebook]
To Buy: Shop [physical]

Advanced Primer of Sidereal Astrology
We live in a cosmic ocean of planetary and stellar vibrations. The great Vedic sages realized just how astro-realities worked and produced formulas accordingly. These formulas, in conjunction with time, constitute the basic principles of sidereal astrology. A man or woman with sidereal knowledge will know the required effort that can produce a successful result, because he or she will better understand the laws that are operative in nature. If he or she can utilize sidereal knowledge after having received it, life will proceed downstream in a smoother way than otherwise. This book leads you past any and all superficialities; it acts as a springboard for further enlightenment, culminating in a kind of rejuvenation. There is revolutionary knowledge transmitted here, and this is your opportunity to really take advantage of it. An advanced primer in the sidereal science is now presented in a clear and concentrated way.

http://books.google.com.au/books?id=ASyVQQAACAAJ&dq=Advanced+Primer+of+Sidereal+Astrology&hl=en&sa=X&ei=wXKcU4voKYjukQXfq4HACQ&ved=0CCQQ6AEwAQ
To Buy: Amazon

Primer of sidereal astrology
This volume contains a wealth of information and explicit calculations for using the sidereal zodiac. After introducing the sidereal technique the authors continue with the method of conversion from the tropical zodiac. They go on to describe and demonstrate the progressed horoscope, primary directing of the angles, the sidereal solar return, and solar quotidian progression. Examples are used throughout. Continuing on, the authors introduce progressions, the progressed sidereal solar return, regression and sidereal lunar return. Includes an extensive section on the art of interpretation. If you use the tropical zodiac but want a concise and complete description of sidereal astrology, this is the book for you. http://books.google.com.au/books/about/Primer_of_Sidereal_Astrology.html?id=QO4x3xSDfVIC&redir_esc=y

The American Sidereal Ephemeris 1976-2000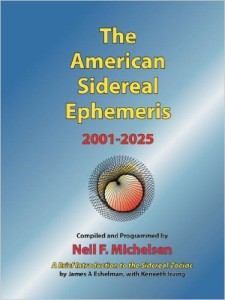 The American Sidereal Ephemeris 2001-2025
Now back in print, this splendid and complete reference work from the late Neil F. Michelsen's best-selling American Ephemeris offers daily tables of planetary positions in the Sidereal Zodiac from 2001-2025 in. This volume, especially sought by anyone who the Sidereal Zodiac as used in Western astrology, uses the Synetic Vernal Point of the Fagan-Bradley school. Includes to-the-second listings of planetary longitudes, plus right ascension and declination, all lunar and planetary sign ingresses into new Sidereal sectors, Moon at both midnight and noon, exact time of direct/retrograde stations, true lunar node, and more. An introductory article by James A. Eshelman and Kenneth Irving discusses the sidereal zodiac and the use of this valuable ephemeris. http://www.bookdepository.com/American-Sidereal-Ephemeris-2001-2025-Neil-Michelsen/9780976242260?b=-3&t=-20#Fulldescription-20
[I am yet to buy this updated version of the last one, but would undoubtedly be the same quality as the prior].